Since AMD's introduction of its newest Zen 3 core for desktop users, the implementation for notebooks and mobile users has been eagerly awaited. In a single generation, on the same manufacturing process, AMD extracted +19% more performance per clock (we verified), so for any system that is power limited, extra performance is often very well received. AMD announced its new Ryzen 5000 Mobile processor family at the start of the year, with processors from 15W to 45W+ in the pipeline, and the first mobile systems coming to market in February. AMD sent us a peak example of Ryzen 5000 Mobile for today's review, the 35W Ryzen 9 5980HS, as contained in the ASUS ROG Flow X13.
Ryzen 5000 Mobile: Eight Zen 3 cores and Vega 8 Graphics
For those that didn't catch the original announcement a couple of weeks ago, here is a recap of the Ryzen 5000 Mobile family as well as the key points from the announcement.
The Ryzen 5000 Mobile processor series is an upgrade over last year's Ryzen 4000 Mobile processor series. AMD co-designed both of these processor families to re-use key parts of the chip design, enabling a fast time-to-market and quicker upgrade cycle for AMD's notebook manufacturing partners (OEMs), like Dell, HP, Lenovo, and others. The major difference between the two processors that most users will encounter is that the new hardware uses eight of AMD's latest Zen 3 CPU cores, which is an upgrade over the eight Zen 2 cores from last year. The highlight is the +19% raw performance uplift when comparing the two at the same frequency.
Under the hood, there are a few more key changes that enthusiasts will be interested in. The new 8-core Zen 3 design shares a combined 16 MB L3 cache, which enables any of the eight cores to access the full cache, reducing latency to main memory (from 4 MB to 16 MB) compared to the previous design which had two clusters of four Zen 2 cores, each with 4 MB of cache.
The new processor is 180 mm2 in size, compared to 156 mm2 of last generation, but still fits into the same socket. It contains 10.7 billion transistors, which is up from 9.8 billion. This means an effective decrease in transistor density, although we know that Zen 3 cores are slightly larger than Zen 2 cores, and some additional security measures have been added (more on this on the next page).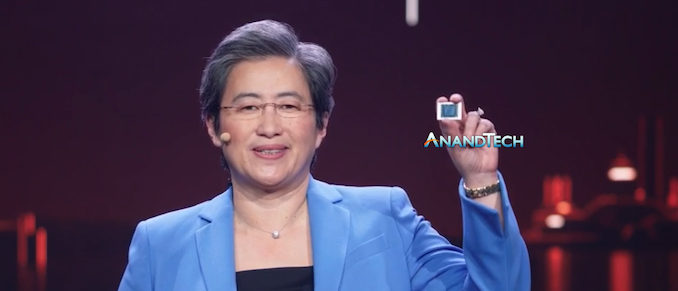 AMD CEO Dr. Lisa Su Showcasing Ryzen 5000 Mobile at CES
Users may be upset that the new processor range only features Vega 8 graphics, the same as last year's design, however part of the silicon re-use comes in here enabling AMD to come to market in a timely manner. The Vega 8 design in the previous generation already had a big boost in efficiency and frequency, and this time around we get another +350 MHz on the high-end. Users who want to see RDNA in a mobile processor may have to wait longer. AMD's re-use strategy may lend itself to changing CPU one generation, GPU the next – we will have to wait and see.
There are other SoC changes, which we will get to later in this review.
The Ryzen 5000 Mobile family is split into two broad product ranges, but both ranges use the same underlying silicon. At the top is the traditional 45 W H-series processors, aimed at productivity notebook designs. For this generation, AMD is pairing the traditional 45 W parts with a range of 35 W 'HS' models, optimized for more efficient designs – this will be AMD's second generation of 35 W 'HS' class processors. AMD is also introducing a new range of 'HX' processors at 45 W and above which will allow AMD's partners to co-design high-performance and/or overclockable AMD notebook solutions.
AMD Ryzen 5000 Mobile: H-Series
AnandTech
Cores
Threads
Base
Freq
Boost
Freq
GPU
Cores
GPU
Freq
TDP
Zen
Ryzen 9 5980HX
8C / 16T
3300
4800
8
2100
45W+
Zen3
Ryzen 9 5980HS
8C / 16T
3000
4800
8
2100
35W
Zen3
Ryzen 9 5900HX
8C / 16T
3300
4600
8
2100
45W+
Zen3
Ryzen 9 5900HS
8C / 16T
3000
4600
8
2100
35W
Zen3
Ryzen 7 5800H
8C / 16T
3200
4400
8
2000
45W
Zen3
Ryzen 7 5800HS
8C / 16T
2800
4400
8
2000
35W
Zen3
Ryzen 5 5600H
6C / 12T
3300
4200
7
1800
45W
Zen3
Ryzen 5 5600HS
6C / 12T
3000
4200
7
1800
35W
Zen3
When HS was introduced last year with Ryzen 4000 Mobile, it was an AMD-OEM partnership-only co-designed product requiring AMD approval in order to h