Macs may be a far less tempting target for malware and viruses, but they're not immune from attack. Even if you don't care about adware or being used as means to infect users on other platforms, it's still possible to fall victim to ransomware, or password theft.
Accordingly, good antivirus for Mac software will protect your Mac on all of these fronts. It'll catch malware that's still spreading or in circulation; block ransomware; protect older systems with out-of-date software from security vulnerabilities; prevent your Mac from acting as a carrier for malware aimed at other operating systems; and keep infected files off of any virtual machines you're running.
As to the question of which Mac antivirus software you should choose, our current top pick is Intego Mac Internet Security. However, you will find several other recommendations below that may suit you better, depending upon the type and number of devices that need protection and also how much you want to pay.
Our top contenders in our best Mac antivirus round up dominate by posting perfect (or virtually near perfect) scores from security research labs, passing our own malware detection tests with flying colors, offering well-designed interfaces, and even throwing in extra features like a firewall or password manager.
For some great discounts and deals see our best Mac antivirus deals round up.
Updated May 5, 2023 to update the F-Secure review.
Best antivirus for Mac reviews
1. Intego Mac Internet Security X9
Pros
Two-way firewall
Good performance
Cons
Mac-specific (no Windows / Android protection)
Price When Reviewed:
Dès 24,99 €
Best Prices Today:
Intego's Mac Internet Security X9 suite is a pair of utilities designed to help you keep your Mac safe and running smoothly. These are VirusBarrier and NetBarrier, which catch and kill malware threats plus spot potential intrusion attempts from outside as well as outgoing attempts from rogue software.
You can get Intego Mac Internet Security X9 here.
The Mac Premium Bundle X9 adds three more sets of capabilities to these: the backup prowess of Personal Backup (a good 'belt' addition to your Time Machine 'braces'), the useful cleaning, tidying and general speed optimising tricks of Mac Washing Machine, and finally the multi-user safe surfing intelligence of ContentBarrier.
Sure, that last one is not something everyone needs, but it's great for parents. Whichever one of these software suites you choose, you can be sure they offer some of the best protection available for your Mac.
Read our full

Intego Mac Internet Security X9 review
2. Clario Antivirus 1.5 for Mac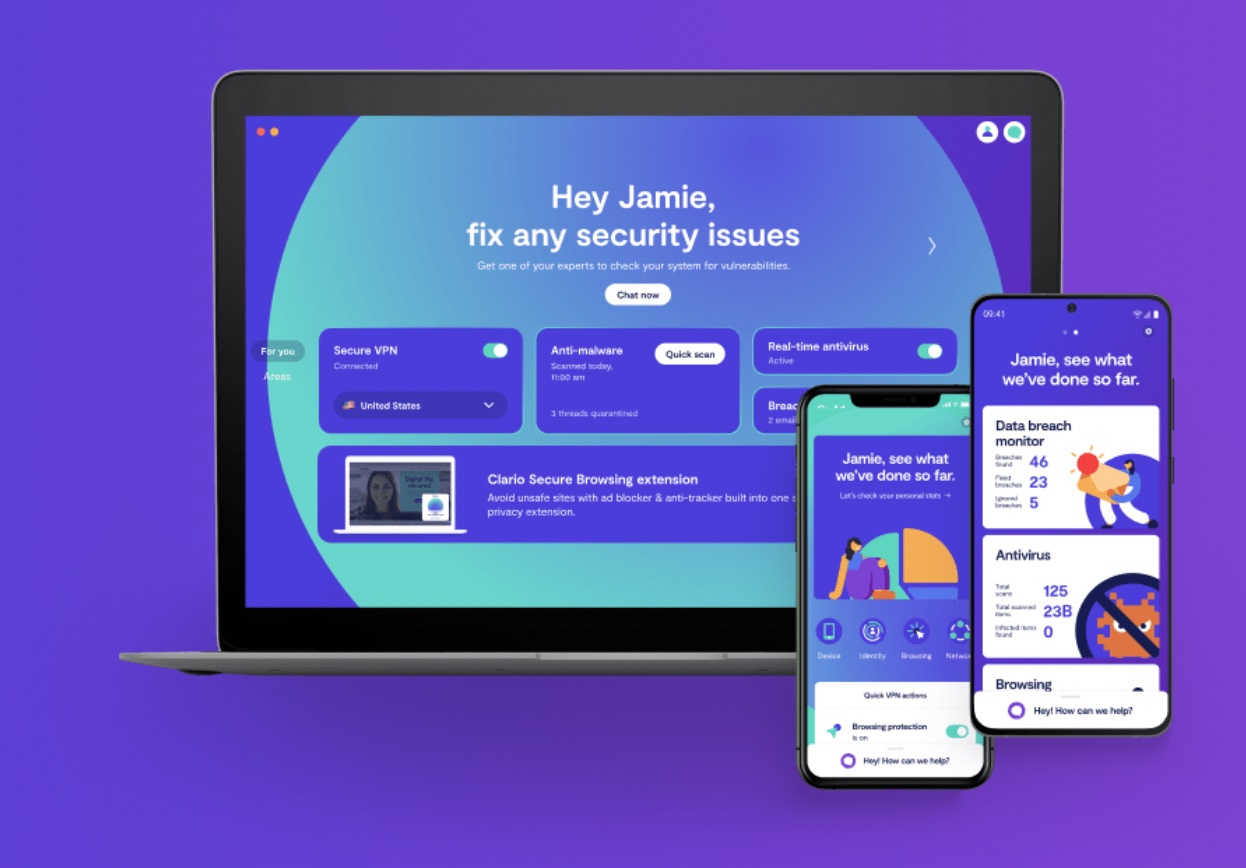 Pros
Reasonably priced
Comprehensive and user-friendly security in a single package
Step-by-step setup and help easily available
Cons
Software can sometimes be slow when open
Best Prices Today:
Clario 1.5 for the Mac is much more than an antivirus package, it packs a healthy amount of security into one package, including real-time and on-demand malware scanning, ad blocking and website trackers, a VPN, and data breach monitoring to alert you if your email is caught and potentially exposed in a cyberattack. There's also 24/7 live support.
Payment is by subscription, and currently Clario has 54% off the usual $107.88 / £107.88 a year, so you can pay $50.00 / £50.00 a year (billed at $4.17 / £4.17 a month). The three devices included in the plan can include a combination of Macs and iOS or Android devices. There's also a 7-day free trial.
Set up is quick and painless with a wizard that takes you through configuration of all the key features while allowing you to evaluate the different options and determine which ones you want to enable. Once installed you can access information about the security of your Mac and monitor the status of your online accounts and personal data. The VPN will kick in if Clario detects you using an unprotected network. And from the Dashboard you can trigger a quick virus scan, which is actually quite thorough.
We did encounter some issues with performance, with the program sometimes running slow before we were fully set up, but once we were fully configured everything ran smoothly.
Whether you're a novice or advanced user, Clario is an effective and supportive security program.
Read our full

Clario Antivirus 1.5 for Mac review
3. AVG Antivirus for Mac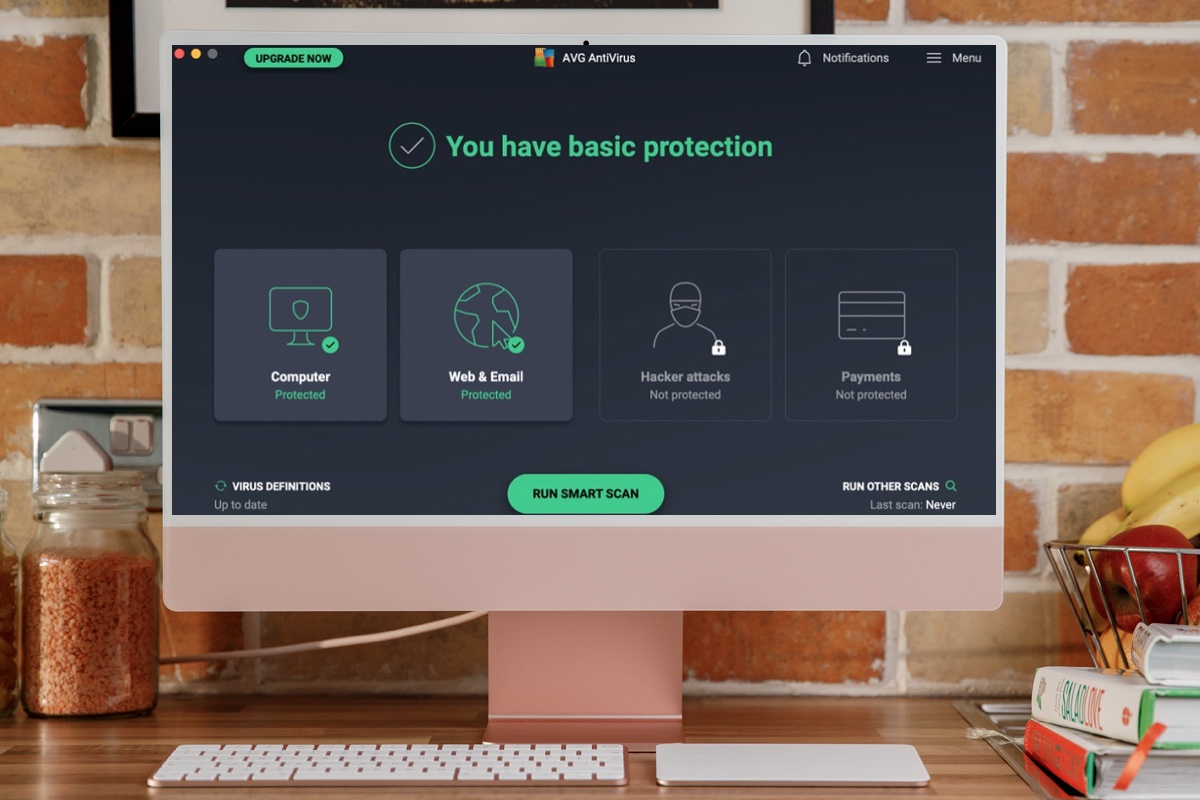 Pros
Capable basic protection for a free product
Quick and easy installation
Clean and helpful dashboard
Cons
Occasional prompts to convince you to upgrade to the paid version
Lacks the ransomware, phishing, and fake website protection built into the paid product
Price When Reviewed:
Gratuit
Best Prices Today:
AVG Antivirus for the Mac is one of a handful of free antivirus for Mac programs. As such it is basic, but its effective at protecting you from viruses, spyware, and malware.
Despite being free, AVG covers all the bases: blocking viruses and malware from websites, downloads, and email attachments. AVG will scan applications and check every file and remove threats from your Mac. It auto updates so you shouldn't miss out on protection from the latest threats.
Though it lacks the advanced features of paid antivirus products, it handles the core tasks cleanly and seamlessly. However, if you need to resolve any advanced issues you will need to pay to upgrade to the full version of the software, which is about $2/£2 per month for a one-year subscription. There is a 60-day free trial though, which could be enough for your purposes.
All in all this is a great option, despite being basic. You get much more than you 'pay' for.
Read our full

AVG Antivirus for Mac review
4. McAfee Total Protection
Pros
Affordable cover for multiple devices
Simple automated operation
Cons
Lack of detail in activity reports
Occasional performance impacts
Price When Reviewed:
Dès 29,95 €
Best Prices Today:
McAfee Total Protection is a dedicated software security tool that will monitor your Mac as you work, looking for unauthorised software activity such as browser search engine hacks, attempts to trick you into installing unwanted software, and actual malware and virus attacks.
It is very simple to use; once you've walked through the guided steps for giving it permission to work behind the scenes it is essentially something you can just leave to get on with its job.
Total Protection also offers WebAdvisor as an option, steering you from known problem sites and warning you when you visit questionable ones. It also offers a software firewall for two-way network traffic monitoring.
We noted some occasional performance impacts as it ran in the background, but it was largely unobtrusive in its efforts. The option of protecting other devices is useful as well, covering smartphones and Windows PCs as you require.
It's worth noting that the Windows version in particular offers more features, such as a native VPN, which you don't get in the Mac app.
You can get McAfee Total Protection here.
Read our full

McAfee Total Protection review
5. Norton 360 Deluxe
Pros
Easy-to-use & effective
Multiple device cover
Minimal performance impact
Cons
No backup on macOS
Didn't spot threats in zip files
Price When Reviewed:
Dès 34,99 €
Best Prices Today:
Norton 360 Deluxe is a security utility that performs a range of different monitoring and safeguarding operations to keep your Mac free from threats such as browser hacks and search engine hijack scripts to intrusion attempts and actual malware.
It focuses on catching unwanted software, but it also offers some useful additional features including a VPN for securing personal data while online, and a tool for managing passwords, bank card details and similar data.
There are three different versions, two of which can also be used to secure your iPhone as well as Android smartphones and Windows PCs, should you require that. In tests it proved to have little to no detectable impact on performance, and it spotted all the challenges in our test macOS setup.
Note that the Cloud Backup feature doesn't work on macOS, but that is more of an extra rather than a vital part of the package.
You can get Norton 360 Deluxe here.
Read our full

Norton 360 Deluxe review
6. Avast Premium Security
Pros
Doesn't generally impact performance
Caught all problem test files
Cons
Slow manual scanning
No option for single-device license
Upselling
Price When Reviewed:
Dès 32,28 € (1 an, 1 appareil)
Best Prices Today:
Avast Premium Security for Mac does its job well overall. There are a few niggles such as the unwanted upselling for Cleanup Premium and the fact that the File Shield monitoring slows down file copy times a bit.
Otherwise, it's a well-featured suite which will protect from all sorts of nasties including watching for browser script hacks, potential ransomware and other remote attack activity. It will, of course, also scan for potentially unwanted programs and actual malware threats, whether on your Mac or your removable media or in email attachments.
Custom scheduled scans can be set up, although the automatic background monitoring teamed with occasional specific manual scans is likely to be enough for most requirements. Wi-Fi network monitoring for vulnerabilities is another feature this software offers, and the Real Site option watches for fake sites pretending to be legitimate shopping or banking sites, a serious risk that goes beyond just watching for unwanted files on your own Mac. It is very effective at all these things, although we found that customising its behaviour can be a little fiddly.
Read our full

Avast Premium Security review
7. Bitdefender Total Security 2021
Pros
Doesn't slow down your Mac
Effective real-time protection
Unobtrusive browsing protection
Cons
No password manager
Very limited VPN
No identity protection
Price When Reviewed:
39,98 €
Best Prices Today:
Bitdefender Total Security is a very effective tool for keeping your Mac safe, and it will also protect Windows PC, an iOS and Android devices. The bundled VPN is very basic and gives you only 200MB of data per day, but the rest of the suite of tools is effective and easy to manage.
But when you compare what the Mac version offers compared to the Windows version, you'll feel quite hard done by. There's no password manager, no social network protection, no webcam or microphone protection, no Wi-Fi security advisor and plenty of other features that Windows users get for the same price.
Bitdefender is also lagging behind its rivals with no identity protection. If your goal is simply to keep your Mac protected from malware, then Bitdefender does a great job. But you can find better value elsewhere.
Read our full

Bitdefender Total Security review
8. Eset Cyber Security Pro
Pros
Effective protection
Full control over settings
Cons
Minor impact on Mac performance
No VPN
No iOS version
Price When Reviewed:
49,96 € (1 année, 1 appareil)
Best Prices Today:
Eset Cyber Security Pro is a useful security tool that protects your Mac – and your Windows PC, Linux box and even Android phones, although not your iPhone – against unauthorised software behaviour, network intrusions, search engine hijack scripts and worse.
It stands out from its competition through its comprehensive range of preferences controls that can fine-tune many aspects of its behaviour, and its relatively low price.
It isn't the most unobtrusive in terms of background performance impact, although most of the time this was minor enough to be not really noticeable.
As well as real-time and on-demand monitoring it also provides a useful firewall, dedicated tools for spotting web-based threats including spyware, and protection against phishing attempts to trick users into divulging private data. It also offers parental controls with three user categories and detailed control over what kinds of sites each user is allowed to visit.
Read our full

Eset Cyber Security Pro review
9. Trend Micro Antivirus for Mac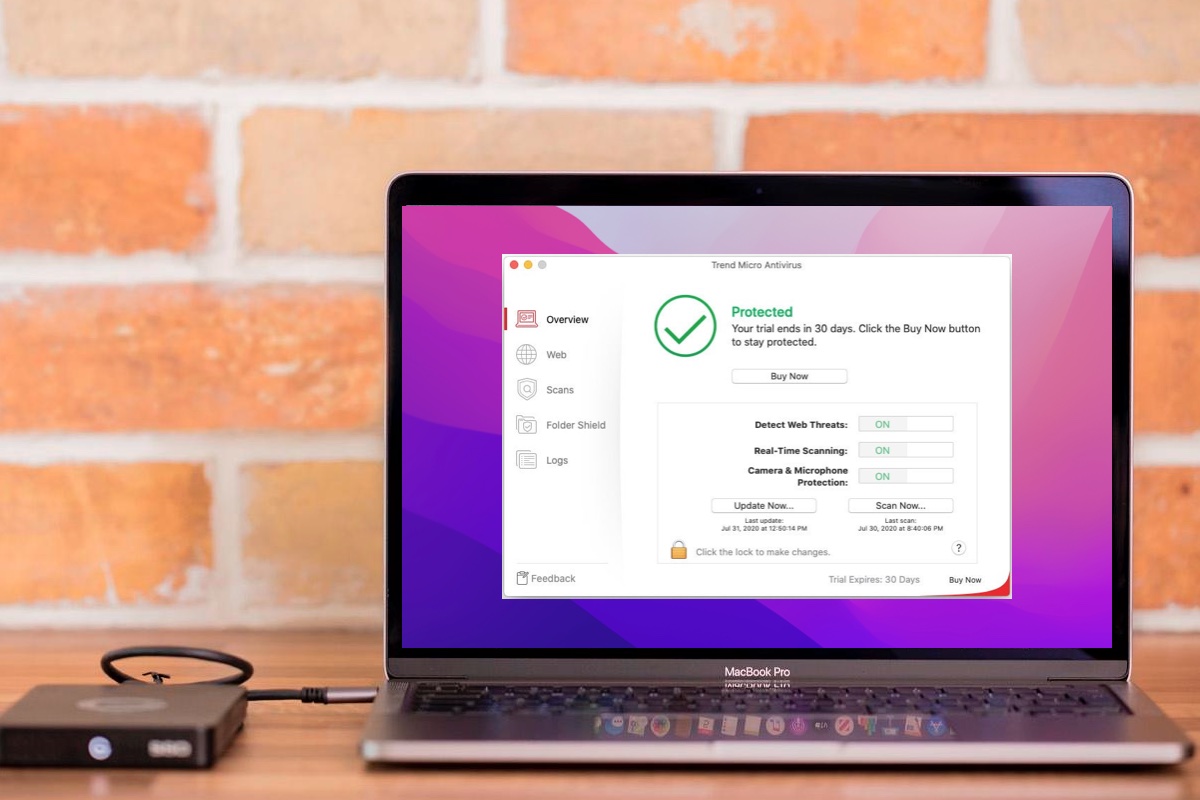 Pros
High malware detection rate
Monitors for ransomware-style attacks from unknown software in specific folders
Cons
Wouldn't detect some malware in real-time in our tests
Fewer extra features compared to less-expensive or similarly priced higher-rank competitors
Price When Reviewed:
Dès 19,99 €
Best Prices Today:
Trend Micro Antivirus is a good program with well rated antivirus protection, and a simple, straightforward interface that users will appreciate.
Anyone looking for additional features will be disappointed with this suite, but it offers good protection at a fair price.
In March 2022 AV-Test gave Trend Micro Antivirus for Mac a 99 percent protection score against 200 samples.
Our own spot checks produced similarly good results. Lining up against the Objective See malware library Trend Micro had no trouble detecting most threats. However in a few cases it didn't detect all the malware contained in a folder until a scan had been run.
Trend Micro is an excellent choice for those looking for something that's simple and easy to use. There are options with better protection, but Trend Micro's protection is still good and pricing is fair.
Read our full

Trend Micro Antivirus for Mac review
10. Avira Prime
Pros
Easy to use
Full VPN
Won't slow down your Mac
Cons
No fine-tuning scan options
Price When Reviewed:
59,95 € (1 an/5 appareils)
Best Prices Today:
Avira Prime is a security utility designed to keep your Mac safe from potentially unwanted programs; which covers everything from simple scripts designed to compromise and redirect your browser searches through to actual malware.
A single large window presents the various features, from scans to app management and cleanup, although a couple of its features use a separate panel for a web-based console. In our tests it detected all our compromised files and installers.
It doesn't look inside zip archives or disk images, but it pounces as soon as items are extracted from these.
Most importantly, even while Avira Prime is actively scanning for trouble it has such a small impact on the general performance of our Mac that we wouldn't notice it without comparing timings. You can get the basics of the security features with Avira Free Security but Prime's annual subscription provides useful additional capabilities, if you can stomach the high cost.
Read our full

Avira Prime review
11. Sophos Home Premium for Mac
Pros
Effective protection
Reasonably priced
Cons
Confusing setup process
Configuring software and running scheduled scan is cloud-based
Price When Reviewed:
37,46 €
Best Prices Today:
Sophos used to offer a free version of its Home product with antivirus protection and website protection, but in 2021 that version was discontinued, leaving Sophos Home Premium as the only option for personal use.
There's now a 30 days full trial, but after that it costs £37.46/$44.99 for the first year and £49.95/$59.99 for each subsequent year. You can install on 10 Macs or PCs though.
Setup was confusing. Initially the software guides you through the process, but then setup stops and you have to sign into your
Sophos Home dashboard to complete setup (it's not at clear that you need to do this step).
There's also no Dock icon to launch the program, instead you use a menu bar icon to access the online dashboard where you can control the five types of protection including:
Antivirus protection – real-time scanning for local and network drives, perform a manual scan or schedule one, plus a quick scan can be triggered from the menu bar icon.
Web protection
Ransomware protection
Privacy protection
Malicious traffic detection
Web filtering
A
2017 evaluation of macOS security software by AV-Test gave Sophos Home outstanding grades for protection, performance, and usability. We ran the EICAR test, which simulates a virus, and Sophos detected and blocked it with no trouble. The website filtering worked well.
Sophos Home Premium provides effective protection, but the setup process and cloud-only features are drawbacks. It needs clearer set up and the ability to do more locally.
Read our full

Sophos Home Premium for Mac review
12. ClamXAV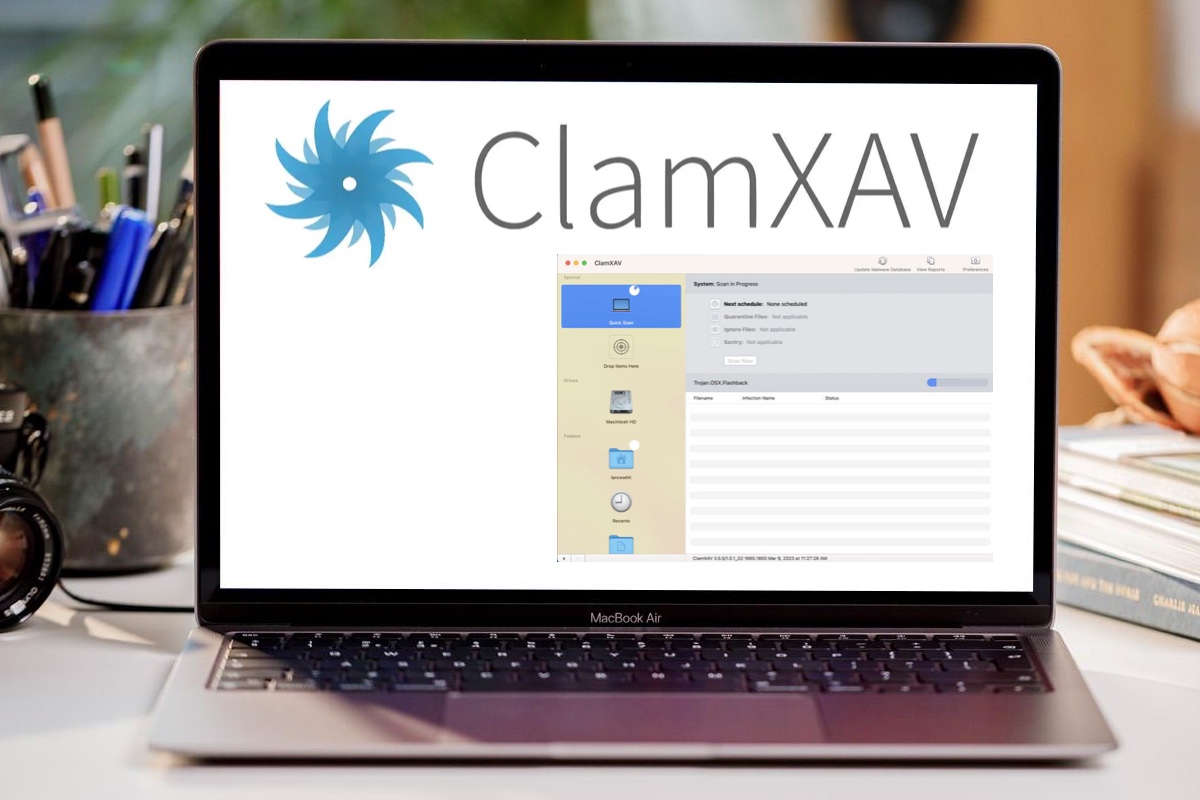 Pros
Effective antivirus protection
Cons
Charges an annual subscription for basic malware protection with no other features
Installing ClamXAV from the ClamXAV website is quick and easy. Either click the Free Trial button or sign up for a $29.95/£24 a year subscription and the installation file is automatically downloaded. After the initial setup, where you need to grant permission to access the Downloads folder and modify security settings, you are all set.
You can run a manual scan from the main screen, but there are several other options. A quick scan checks system files and other areas on your Mac, you can select just your hard drive to runs a scan on all folders and files on the disk, and dragging and dropping a single folder or file onto the scanning pane checks it for malware. You can also select an external drive or connected USB stick for scanning. There's also a real-time scanning component–Sentry–that is always on guard.
It is possible to schedule any type of scan to run on specific days and times. By default, any malicious files are automatically quarantined, but you can decide whether or not to quarantine infected files. You can open the quarantine folder to see what files were caught.
ClamXAV proved effective at detecting and stopping test malware files, but there's nothing more to the program beyond the basic antivirus scanning and options. ClamXAV is certainly effective at virus scanning, but that's a capability found in many free and equally effective security products for the Mac.
Read our full

ClamXav review
13. Malwarebytes Premium for Macs
Pros
Offers all the basic types of security
Easy to use
Reasonably priced
Cons
Mac version missing certain features compared with its Windows counterpart
Excludes any mention or advice on the Malwarebytes browser extension
Malwarebytes comes in both free and premium editions for personal use. Unfortunately the Mac version falls short of many of the features of the Windows version. Malwarebytes Premium for Mac includes the basis virus and malware scanning as well as the ability to detect malicious apps, or PUPs (potentially unwanted program). The real-time protection constantly monitors your system for security threats, automatically blocking and quarantining anything that could infect your computer.
But it doesn't directly come with the protection against malicious links and phishing attempts. Nor does it offer the safeguards against ransomware and zero-day exploits.
There is a free version of Malwarebytes, but that just includes just basic virus scanning. The premium version costs $3.33/£2.50 billed monthly or $39.99/£29.99 billed annually for one device, and $6.67/£5.83 billed monthly or $79.99/£69.99 billed annually for five devices. There's a free 14-day trial.
Malwarebytes Premium on a Mac is accessible through a menu bar icon. Clicking the icon displays a menu with options to start a scan, temporarily turn off the malware protection and malicious app blocker, update the program, view and tweak its settings, and open the management console.
From the management console you can trigger a manual scan and set up scheduled scans to run on a recurring basis. A detection history displays all quarantined items. There's an Allow list to add legitimate files or programs that were mistakenly flagged as malware to.
Malwarebytes Premium has regularly and consistently gotten top marks from AV-Test for protection, performance, and usability. In real-world testing conducted by AV Comparatives during February and March of 2022, the software scored 100% at blocking malware, though it had a high number of false positives.
It's just a shame that the Mac version feels like an also-ran compared with the Windows edition.
Read our full

Malwarebytes Premium for Macs review
14. F-Secure Total for Mac
Pros
Includes virus protection, secure browsing, ID monitoring, a VPN, and a password vault in one package
Effective and flexible VPN
Cons
Missing key capabilities such as a quick virus scan and a scheduled scan
Certain options unavailable in the Mac version vs the Windows version
No notification for malware infections
No way to view malicious or quarantined files
Charges a hefty annual subscription
Price When Reviewed:
Dès 49,99 € (1 an, 5 appareils
Best Prices Today:
F-Secure Total for Mac is a simple-to-use security software suite that works on macOS, iOS, Windows and Android devices and protects your data from a wide range of threats. It includes several useful features, but lacks certain key options, especially in the virus scanning.
The program is $59.99 a year for one device, which is steep, but there's a free 30-day trial that requires no credit card and even gives you free technical support if you need it.
Clicking the Scan button runs a full virus scan that checks your entire system, while clicking the link for Viruses & Threats takes you to another screen where you can scan just specific folders. But there are no options to run a quick scan or even to schedule a scan, unlike the Windows version which includes a quick scan. It provides real-time virus and spyware scanning to automatically block malware, and 'DeepGuard' monitors applications for any changes indicative of a malware infection.
You can set up the ID monitoring to check your email address for data breaches among your online accounts. The VPN is another defense and includes tracking protection to prevent advertisers from monitoring your online activity and a kill switch to quickly cut off all internet traffic.
F-Secure offers a password vault that creates and stores secure logins for all your accounts. The password vault requires an extension that supports Chrome, Firefox, and Edge. Safari isn't yet supported.
Unfortunately, F-Secure doesn't let you review blocked or deleted malicious files, and no setting allows you to quarantine files instead of remove them.
Read our full

F-Secure Total review
15. MacKeeper 5
Pros
Easy management of protection
Useful range of features
Cons
Some performance impacts
No throttle controls
Price When Reviewed:
Dès 64,80 € pour 12 mois
Best Prices Today:
MacKeeper 5 is the reborn version of a security utility that has been around for many years. The reputation of previous versions seems just old news now – today, it's a useful and comprehensive tool for keeping your Mac secure and optimised as you work, play and use the internet.
The range of tools it offers in addition to watching for unwelcome software is wide ranging. There's a memory optimiser, an update tracker to spot outdated applications, a smart uninstaller to clean up after other software and a VPN feature for secure browsing.
There's even identify protection, which monitors password databases to catch possible ID theft efforts. While we noted occasional performance impacts from its real-time antivirus monitoring, it wasn't something that happened all the time.
Ultimately, we liked MacKeeper's easy and helpful interface, which makes what could be a daunting task quite approachable.
Read our full

MacKeeper 5 review
16. Avira Free Security for Mac
Pros
Effective antivirus protection
Includes a VPN, password manager, and junk file cleaner
Cons
Offers several different tools via its dashboard, but only a few are available in the free version
A smart scan promises to boost your performance, but there's little you can do in the free version
The VPN severely limits the amount of encrypted traffic
Avira Free Security for Mac seems to offer a lot of features for free. But most actually require a paid subscription, so the product's overall usefulness is limited and the constant sales pitches annoying.
You can run a quick scan to check out system files and other vulnerable areas or a full scan to analyze your entire Mac for malware. These scans can run daily, weekly, or monthly. You can also create a custom scan. There are also real-time virus protection scans to scan new files saved to your computer or downloaded from the internet. You have to pay to scan a USB drive. Malware discovered is automatically quarantined. Avira was effective at detecting and stopping malware when we tested it.
The free version of Avira includes a junk cleaner that can identify issues via a smart scan, but you need to pay to actually clean up anything beyond the junk files.
The old adage of "you get what you pay for" is certainly true with Avira Free Security. Take away the tools that require a subscription, and you're left with the antivirus feature, a limited VPN, a password manager that works only in Safari, and a junk file cleaner.
Read our full

Avira Free Security for Mac review
17. Kaspersky Total Security for Mac 2022
Pros
Top-rated antivirus engine
Reasonably priced
Host of effective tools under one roof
Cons
No dedicated Mac version
Awkward installation process for the Mac
Certain tools require separate apps to manage them
Price When Reviewed:
99,99 € pour 5 ppareils pour 1 an (Promo : 39,99 €)
The 2022 version of Kaspersky Total Security offers a raft of features, including antivirus and anti-phishing protection, ad blocking and private browsing, webcam spying protection, a VPN, a child locator with parental controls, screen time management, and a password manager.
The main disappointment with Kaspersky Total Security 2022 is the installation process on the Mac – made all the more frustrating by the fact that installing on Windows is quick and easy.
Mac users have to download and install the Internet Security product and then download and install the password manager and Safe Kids tools as separate apps. Kaspersky doesn't make this clear.
Once installed, the product is robust and effective. Based on 2021 testing for anti-virus products, Kaspersky received top marks for protection, performance, and usability from
AV-Test and solid grades from
AV Comparatives. The product also was rated the best antivirus software for 2022 from
Security.org.
Total Security offers access four key features: scanning, updating, privacy, and Safe Kids. To hunt down malware, you can run a full scan, a quick scan, or a scheduled scan. The Safe Money feature protects your credentials when you shop or bank online, while the Kaspersky password manager sets up strong passwords.
There is also an easy to configure VPN and the Safe Kids app (which can be accessed via a smartphone app) brings parental controls.
Read our full

Kaspersky Total Security for Mac 2022 review
Best Mac antivirus at a glance comparison
Here is an overview of the top Mac antivirus software tested above.
| | | | | | | | | | | | | | |
| --- | --- | --- | --- | --- | --- | --- | --- | --- | --- | --- | --- | --- | --- |
| Developer | Product name | USB scan | Ransomware protection | Adware prevention | Anti phishing protection | Email protection | Firewall | VPN | iOS version | Parental Controls | Support | Trial | Price |
| Intego | Internet Security X9 | Y | Y | X | Y | X | Y | X | Y | Y | Y | 7 days | $49.99/£49.99 / ye ($24.99/£20.99 /yr deal) |
| Clario | Antivirus 1.5 for Mac | Y | Y | Y | Y | X | X | Y | Y | X | Y | 7 days | £107.88/£107.88 / ye (currently $50/£50 /ye); ($4.17/£4.17 / mo for a year, or $8.99/£8.99 /mo billed monthly) |
| AVG | AntiVirus for Mac | X | X | X | X | Y | X | X | Y | X | X | 60 days | Free (Paid for version is $2.49 per month for one year / $2.39 a month for two-years / $2.29 a month for three-years) |
| Norton | 360 Deluxe | Y | Y | Y | Y | Y | Y | Y | Y | Y | Y | 30 days | $39.99/£34.99/yr |
| McAfee | Total Protection | Y | Y | Y | Y | Y | Y | Y | Y | Y | Y | 30 days | $34.99/£34.99/yr |
| Avast | Premium Security | Y | Y | X | Y | Y | Y | Y | Y | X | Y | 60 days | $44.99/£39.99/yr |
| Bitdefender | Total Security | Y | Y | X | Y | Y | Y | Y | Y | Y | Y | 30 days | $39.97/£34.99/yr |
| Eset | Cyber Security Pro | Y | Y | X | Y | Y | Y | X | X | Y | Y | 30 days | $49.95/£39.95/yr |
| Trend Micro | Antivirus for Mac | X | Y | Y | Y | Y | Y | Y | Y | Y | Y | 30 days | $39.99/£49.95 |
| Avira | Prime | Y | Y | Y | Y | X | Y | Y | Y | Y | Y | 30 days | $99.99/£85.99 |
Do Macs need Mac antivirus software?
Plenty of Mac aficionados will tell you that Apple computers are inherently secure and don't require protection. We'd argue that they are wrong – or overconfident, at the very least.
Not long ago, the Silver Sparrow malware was detected on Macs powered by the M1 processor and infected hundreds of thousands of Macs in total. The bad guys, then, are still very much targeting Mac users and they're getting smarter and greedier. As a result, cyber security is something you can't afford to ignore, and good Mac antivirus is a very good place to start if you want to stay safe.
Macs are generally more secure than their Windows brethren for two reasons. On the technical side, macOS is a Unix-based operating system. As a Unix-based operating system macOS is sandboxed.
Sandboxing is like having a series of fire doors: even if malware gains access to your Mac, it is unable to spread to other areas of the machine. They are more difficult to exploit than Windows PCs, but Macs are not unhackable.
More general advice can be found in our Mac security tips; and those who have been hit by a malware attack should try how to remove a virus from a Mac.
How to choose the best Mac antivirus
Features fundamental to all packages are two ways to find viruses: on-demand protection and via always-on protection. The former finds viruses by examining one file after another during scheduled scans, or when you choose to undertake a scan, perhaps because you're worried your Mac might be infected. The speed at which the Mac antivirus app can do this is important, because some take a long time and also hog the Mac's CPU while they do so. Waiting six hours to find out if your Mac is infected is neither convenient nor relaxing.
Always-on malware protection is what protects the user outside of the times when scans are run. If some malware arrives, perhaps via an email or a downloaded file, then the always-on protection should be able to detect it and either quarantine it (copy it to a safe folder so the user can decide what to do with it), or simply delete it. Usually a notification is shown when malware is detected in this way, but not all antimalware apps show the same amount of explanation of what's happened – and this was one of the factors we examined in our testing.
Outside of direct malware detection, many security suites include additional tools such as ransomware protection. Ransomware is a type of malware that, once it's infected a computer, encrypts all the user's files and then demands a fee to decrypt them. To protect against this infection, anti-ransomware features typically block any app from writing to a user's home folders, such as Documents or Photos, unless the app's pre-approved (a process called whitelisting). Lots of apps come already pre-approved, of course, such as Microsoft Word, or Apple's own Photos app. But you can add others.
Several products also include virtual private network (
VPN) add-ons. These protect an internet connection by encrypting it, and this is useful when utilising unsafe open WiFi such as that provided by a café or hotel. In our experience, these are not replacements for separate paid-for VPN services as many do not unblock video streaming services and some are cut-down versions which constantly nag you to pay extra for the full, premium versions.
Web protection via browser plugins or extensions is also a common component and aims to stop you (or your children) doing anything you regret online, such as visiting fake or infected websites or handing over personal information.
There are usually different options from each vendor, and you get more extras with the top packages, and far fewer with free ones. They might include password managers, parental controls, cloud storage – the list goes on. Generally, the underlying antimalware engine is the same in all products from the same company, so you can save money if you don't need those additional features.
Do bear in mind that all antivirus for Mac apps are sold as yearly subscriptions. That's right, you can't just pay once and use forever. Often there's a hefty discount for that first year's subscription, but this can burn you when automatic renewal occurs a year later and the full retail price is charged: often 100% more. Alternatively, you can purchase several years' subscriptions at once for a bigger discount.
Some of the best Mac antivirus subscriptions allow you to install the software on more than one computer (including Windows and Android devices), which can sometimes add significantly to the value – all computers, phones and tablets within a household can be protected with one subscription.
Spotting fake Mac antivirus software
Beware that, due to the fact that people are so concerned about malware threats on the Mac, there have been cases of malware disguising itself as an antivirus app, such as the Mac Auto Fixer pop-ups that appeared on some Macs suggesting that software needs to be installed (at a high price). This is similar to another fake antivirus app called MacDefender.
Another Mac antivirus company that is often thought of as unscrupulous is MacKeeper. In the past various reports have suggested it is a scam or at worst malware. In recent times MacKeeper has attempted to transform itself and leave its disreputability behind. It has, for example, gained Apple Notarization – which means the software is checked by Apple for malicious components. The company has also been working to get certifications from various bodies to prove it isn't a PUP, including an AV-Test certificate. If you have any problems with MacKeeper we do explain how to remove it here: How to uninstall MacKeeper.
How we test Mac antivirus software
Each software package is evaluated creating a clean installation of macOS, cloning it for each AV product, and then booting separately into each one to install a different package. This was to ensure that previous app installations didn't interfere with new ones – sometimes AV software treats other AV software as an infection.
In addition to visiting malicious websites, downloading known malicious software, and even running said malware on our Mac, we also reference the most recent reports from two labs that regularly cover macOS malware: AV Comparatives and AV-TEST. These laboratories test AV software against sets of known malware as well as products that are grouped as potentially unwanted applications (like adware).
The latter doesn't damage or expose your computer or its files but may consume power and CPU cycles. Because the testing effectively looks at a combination of virus databases and behavior, they remain good gauges even after many months. When an antivirus for Mac software package lacks a rating from a known security research lab, we do more extensive testing with real malware.
Finally, while we gave props for a lot of different features and behaviors, we marked products down if they lacked any or all of the following:
A nearly perfect score on macOS malware detection
Ransomware monitoring
Native browser plug-in or system-level Web proxy
A high score on Windows malware detection
Privacy concerns
Using a Mac antivirus product, especially any that includes tools to also improve your online privacy, may lull you into believing you're safe from personal and private information leaking out. That's not quite the case. While there's no reason to panic, you should consider a few reasonable issues.
First, an antivirus for Mac product may upload the complete text of files flagged to the cloud, where it can be analyzed by separate tools hosted there. This practice is normal and sensible: Some malware can detect when a running process may examine it, and will then engage in subterfuge. Antivirus software makers also can access their massive databases to examine files with characteristics that trigger their algorithms—certain elements that match known malware. As a result, security researchers discover new viruses, worms, Trojans horses, and the like.
However, helping the greater good means you'll have to be comfortable with trusting a third-party with your file contents. Where appropriate, we noted privacy policy issues in individual reviews.
Second, this software may also rely partly or entirely on cloud-based checks of URLs, malware, and the like. Accordingly, an AV package might upload every URL you visit, metadata about files, signatures of files, information about your computer's hardware, a list of running or installed applications, and more. Companies vary on their disclosure of such policies, and may not let you opt out of this kind of sharing. We note issues in each review as available.
Third, anti-virus software makers also get a sense of what behavior is happening on your computer that's being monitored or blocked, and may use that information for their own purposes. In some cases, you can opt out of this information gathering.