Finding a good analysis tool has always been a frustration for Amazon sellers. It becomes difficult to monitor product performance, sales analysis, and other metrics for the sellers without adequate reporting. Until I discovered Captain BI, which is a game changer for Amazon merchants.
Like any new tool, it's an investment of time and money to implement a new system. Let's jump right in and see if making the switch into Captain BI is worth it or not.
What is Captain BI
Captain Bi is an amazon seller analytics tool designed for Amazon Sellers to monitor product performance, monitor profit reports, analysis of sales, and market analysis.
It was started in 2016 and grown tremendously, having 200,000+ customers and 300+ Amazon Top Brands. Captain BI is a team of 100+ people coming from all over the world and it is a profitable, international, and fast-growing SaaS company based in the United States and Hong Kong.
Just a couple of the highlights they pride themselves on:
Strong cross-border e-commerce technology development capabilities
achievement of professional Amazon data analysis and business intelligence systems
help global sellers more flexible and effective in business decision-making
The good thing is that they are an Officially Amazon Certified Service Provider.

Features and Tools of Captain BI
Captain BI provides a variety of features to the Amazon Sellers to make continuous growth
They include:
Sales Analytics
Profit & Loss Report
FBA Inventory Management
Smart Sponsored Ad Tools
Seller Tool Box
Let's discuss these features and tools in detail:
Sales Analytics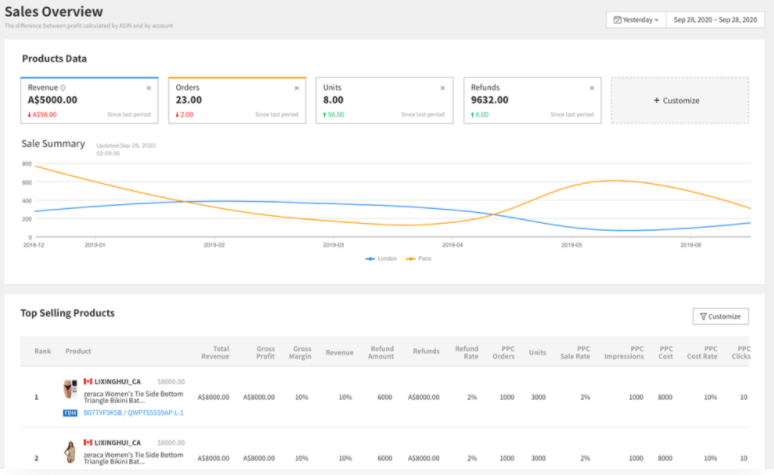 Sale Analytics tools will help you monitor the full data of sales in one platform. This is the dashboard of sales analytics which clearly shows all the tools provided in sales analytics.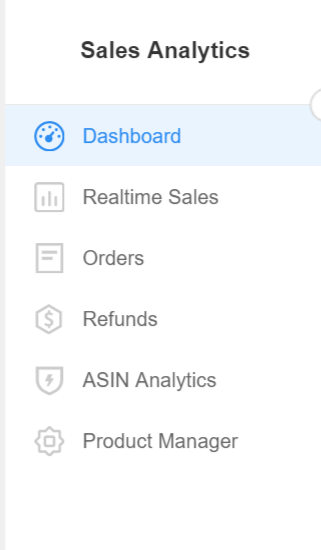 You will get information on Real-Time Sales, Orders, Refunds, ASIN Analytics, Product Manager. That means:
Real-Time Sales: You can monitor the sales of multiple marketplaces in one place to analyze the sales data, and you can track the detailed sales of each marketplace in real-time.
Orders: You can get all the metrics of each order and you can label the review orders, which will not be calculated into the profit to make the finance data accurate.
Refunds: You can get the details of your refunds like refund reason, refund processing progress, etc so that you can easily analyze and understand the refunds.
ASIN Analytics: This tool will help you with analyzing the specific ASINs by multiple metrics, such as traffic, sales, inventory, and other performance.
Product Manager: This tool helps you to launch or discontinue the products more efficiently. You can easily manage your product and shipping cost so that you will get accurate profit data.
The Amazon Seller Central dashboard does not make it easy to dissect your order reporting. But with this tool, you can see that you will get information on real-time sales, orders, refunds, ASIN analytics, and product management.
Profit & Loss Report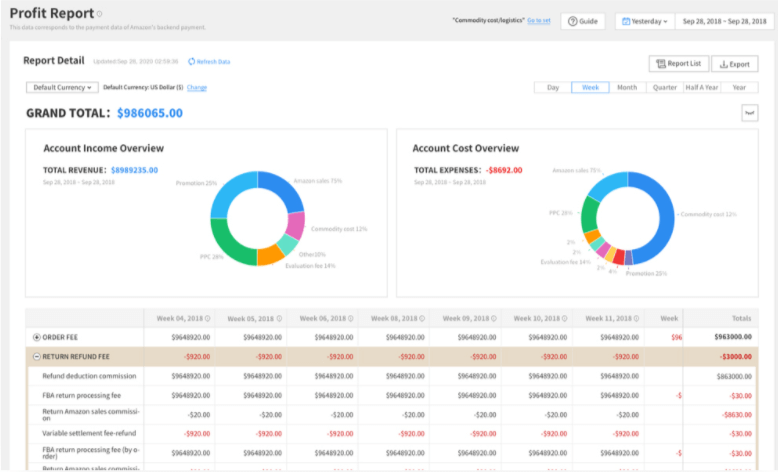 This is my favorite part of the reporting. The profit station.
Currently if you are an Amazon seller, you have to manually calculate your profit. There is no function built into seller central to do so. If you want to find this out, you are either waiting till month's end when your bookkeeper sends your monthly reports or trying to manually get figure out your profit on a calculator. If you are manually calculating the profit, it's likely you probably forgot an expense and will miscalculate. For example, did you include your storage fees?
Not too mention figuring out the profit of multiple marketplaces with different currencies.
Captain BI's profit calculator integrates all complex expenses and revenue to help you know your real profits instantly.
That means, no more waiting till the weeks end or the month end to make important financial decisions about your product.
This tool organizes the profit-and-loss data and provides you the full insight into the profit and cost of each product.
You will get:
Profit & Loss Report: You will get an exact profit-and-loss report for multiple marketplaces and it is easy to calculate and export the profit settlement by different time range.
Product Profit Analysis: It is easy to calculate the profit and loss of each product and makes it easier to keep track of the costs.
Full Metrics: You can get all of the key inputs and fees including Amazon fees, FBA fees, refunds, historical COGs, promotional costs, and many more see your profitability at any level you like.
Customized Report: It also gives you access to the Monthly Profit report, multi marketplaces, customized period, view by a different currency, and you can also export the report easily.
FBA Inventory Management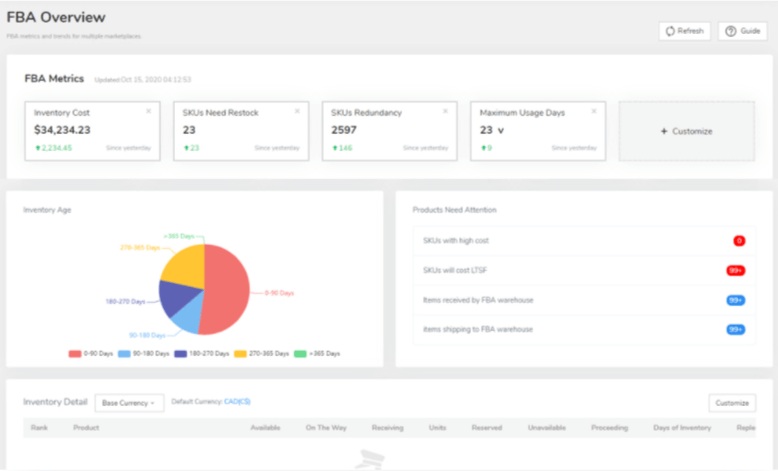 FBA Inventory tool has two features which are FBA Inventory Forecast and Amazon FBA reimbursement
FBA Inventory Forecast: It will help you to manage your FBA Inventory by having the information on inventory cost, replenishment, redundancy, LTSF.
FBA Reimbursement Tool: You can claim unreasonable loss of inventory and get paid from Amazon, which will bring about 3% of sales back for you. This tool is helping to put money back in your pocket!
Analyze FBA Sales and profits: You can analyze more inventory data, such as cost, sales, average sales, and refunds.
Smart Sponsored Ads Tools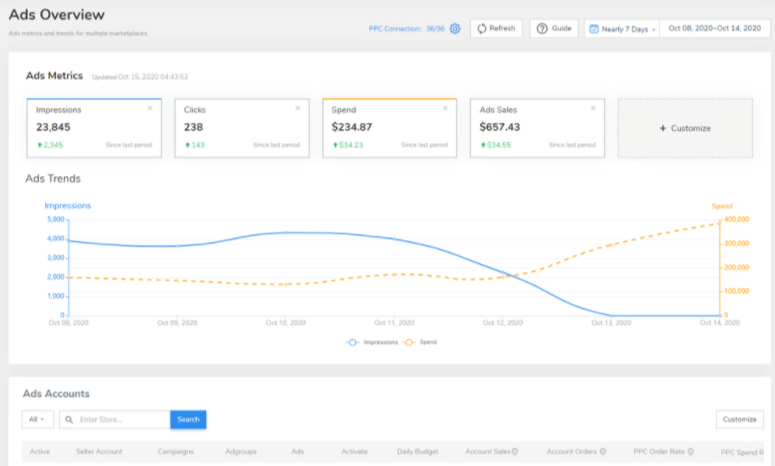 If you are selling in different marketplaces, this feature is for you!
No more switching between marketplaces to get the sponsored ads ACOS. In fact, no more logging into the clunky seller central at all. You can manage your sponsored ads 100% from this tool.
Now you can manage all sponsored ads for your multiple stores, so you can focus on improving your ACOS and bottom line.
Managing Sponsored Ads: You can review and manage your sponsored ads. The tool supports over 19 metrics for each campaign. It is easy for you to see the performance of the campaign at a glance.
Automatic Bidding: Automatic Bidding tool will help you with the ads management with bidding strategies, such as budget, time range, bidding, increase the conversion, and decrease the Acos with intelligence.
With the help of AI, there are powerful amazon ad management softwares. With CaptainBI, you can get this function built into your Amazon dashboard VS paying for it as a separate service, saving you money.
Seller Tool Box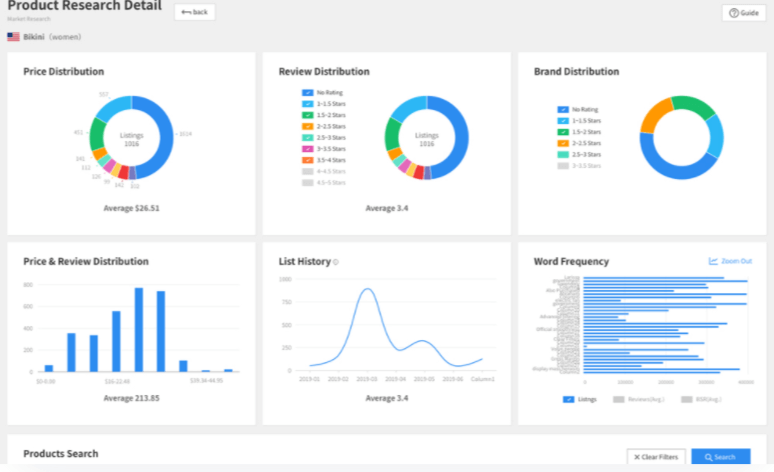 You can find and sell your best opportunity from a real-time database from Amazon. Use smart filters to uncover winning product ideas based on your exact needs, niche, and preferences.
ASIN Reverse Lookup: It will assist you in finding potential opportunities to boost your products.
Know Your Competitors Better: with the help of product and store monitoring tools, you can get the full insights of your competitors.
Find Profitable Keywords: The tool can analyze the keyword sale rate for you. The higher the rate, the greater potential of the keyword. You can easily get profitable and high-converting listings.
How to Connect Your Captain BI Account to your Amazon Seller Account
Granting access to Captain BI is quick and easy.
1. Log into your Captain BI account. And then click your profile icon, click the Amazon account on the drop-down menu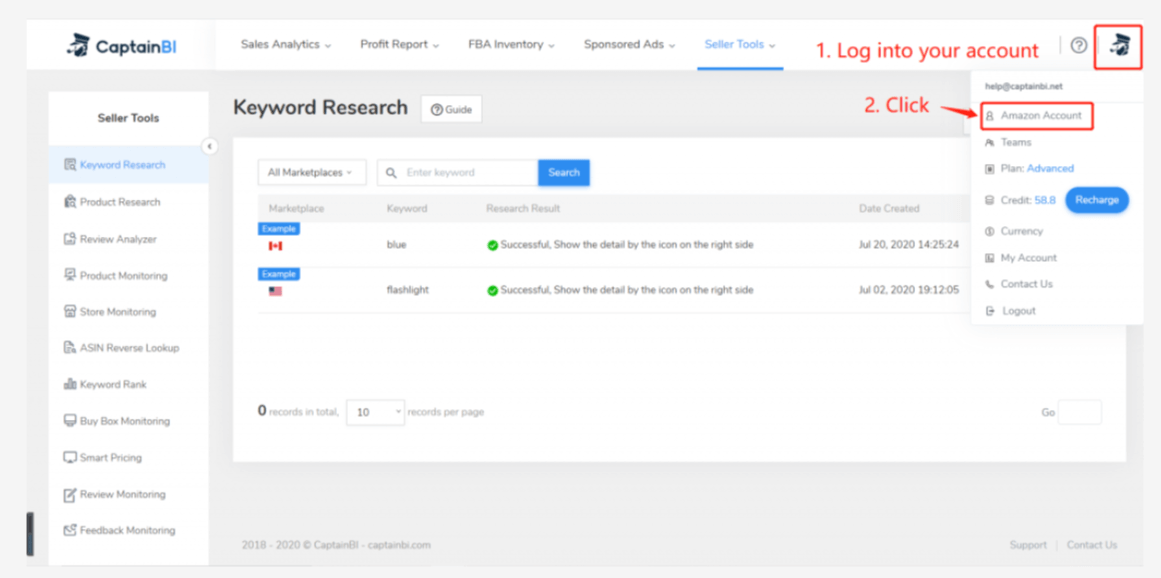 2. On the Seller Accounts page, click the Connect button to connect your Amazon account.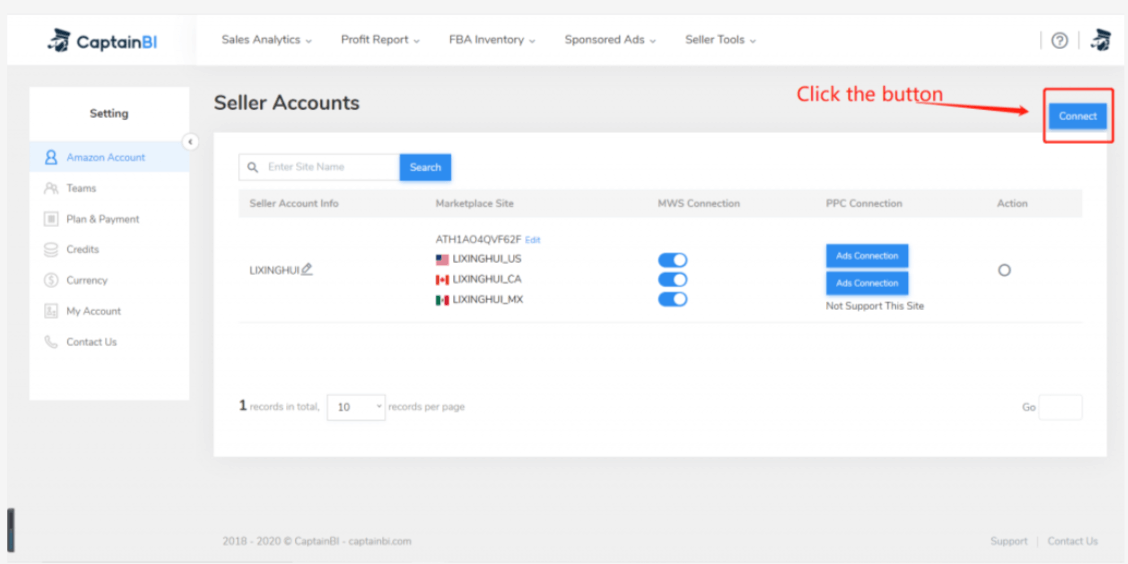 3. A window will pop out to ask you to choose the site and nation, then click the GO TO SELLER CENTRAL button.
4. Once you click the GO TO SELLER CENTRAL button, it will lead you to your Seller Central Account, sign in to your Amazon Seller Central account, if it prompts you to do so. Note: Make sure that the Seller Account is the correct one you want to connect to your Captain BI Account.

5. The next window will be titled "Amazon Marketplace Web Services" and display Captain BI's Developer Name and Developer ID. In this way, you can click on the Next button to continue the process.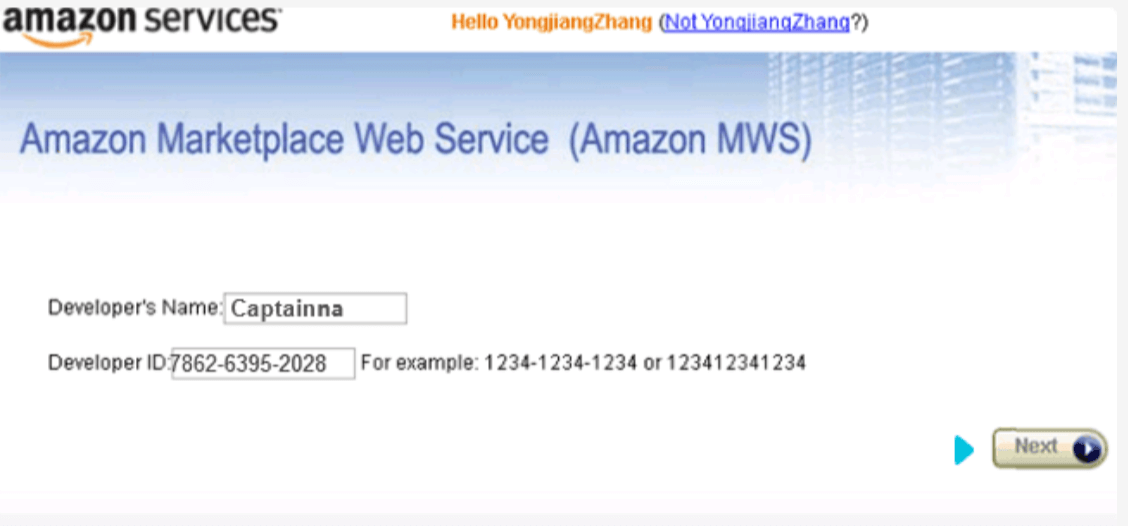 6. Clicking Next prompts a new window asking you to confirm that you want to give Captain BI access to your Seller account. Check the approval box and click Next to continue. Note: For the European Site, you need to check two approval box.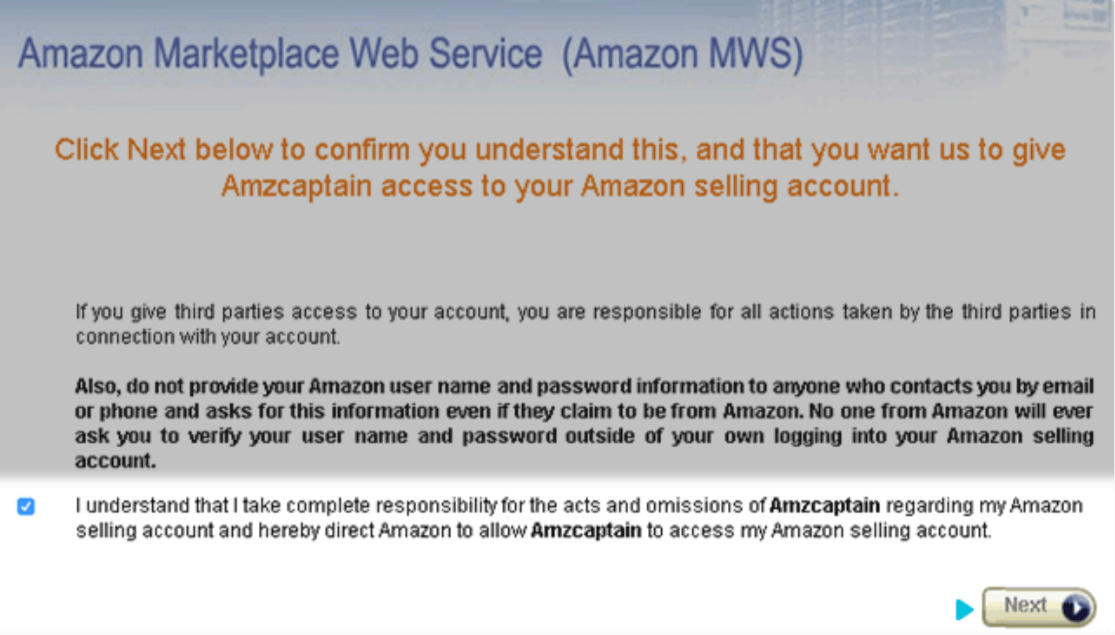 7. Next, it will go to the page with Seller ID and Token. It is necessary for you to share your Seller ID and Token with Captain BI. Copy each alphanumeric string from Amazon to paste into the Captain BI browser window.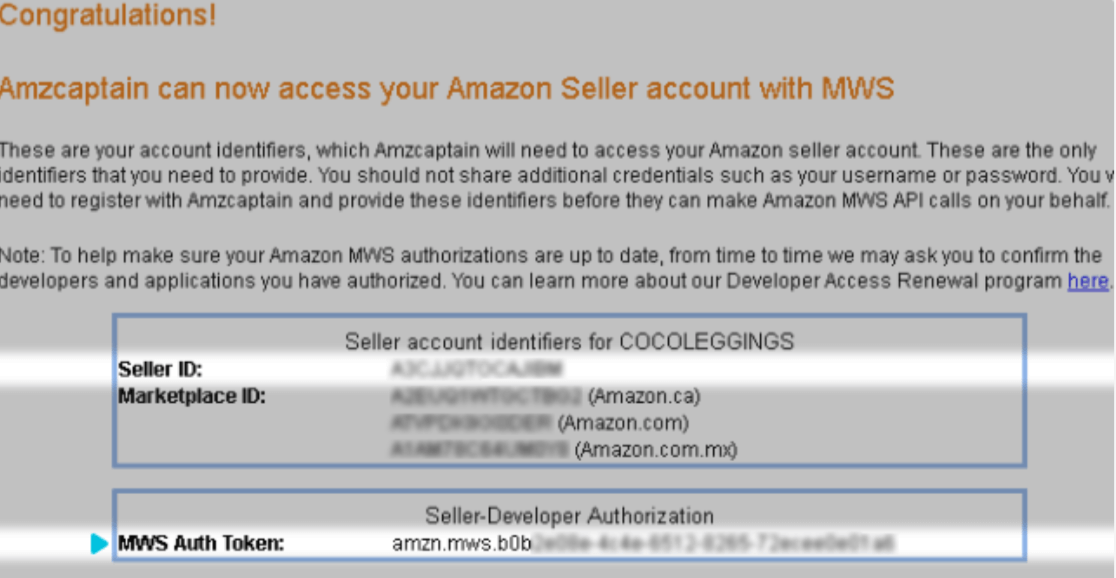 8. Paste Seller ID and Token into the Captain BI, and fill in your account name. Just click the Connect button.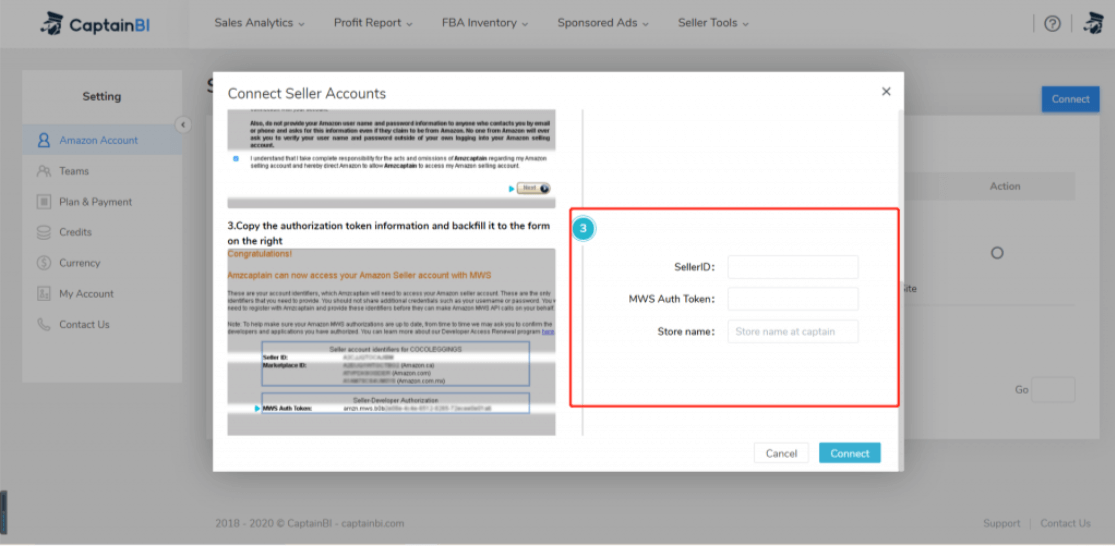 9. Great! Now that you've authorized your store connection. Authorized stores will be displayed in the list below. Therefore, it will take about 3-6 hours for Captain BI to automatically sync data. Note: Free plan can only access one store, if you want to connect more stores, please change the plan to get more.

Plans and Pricing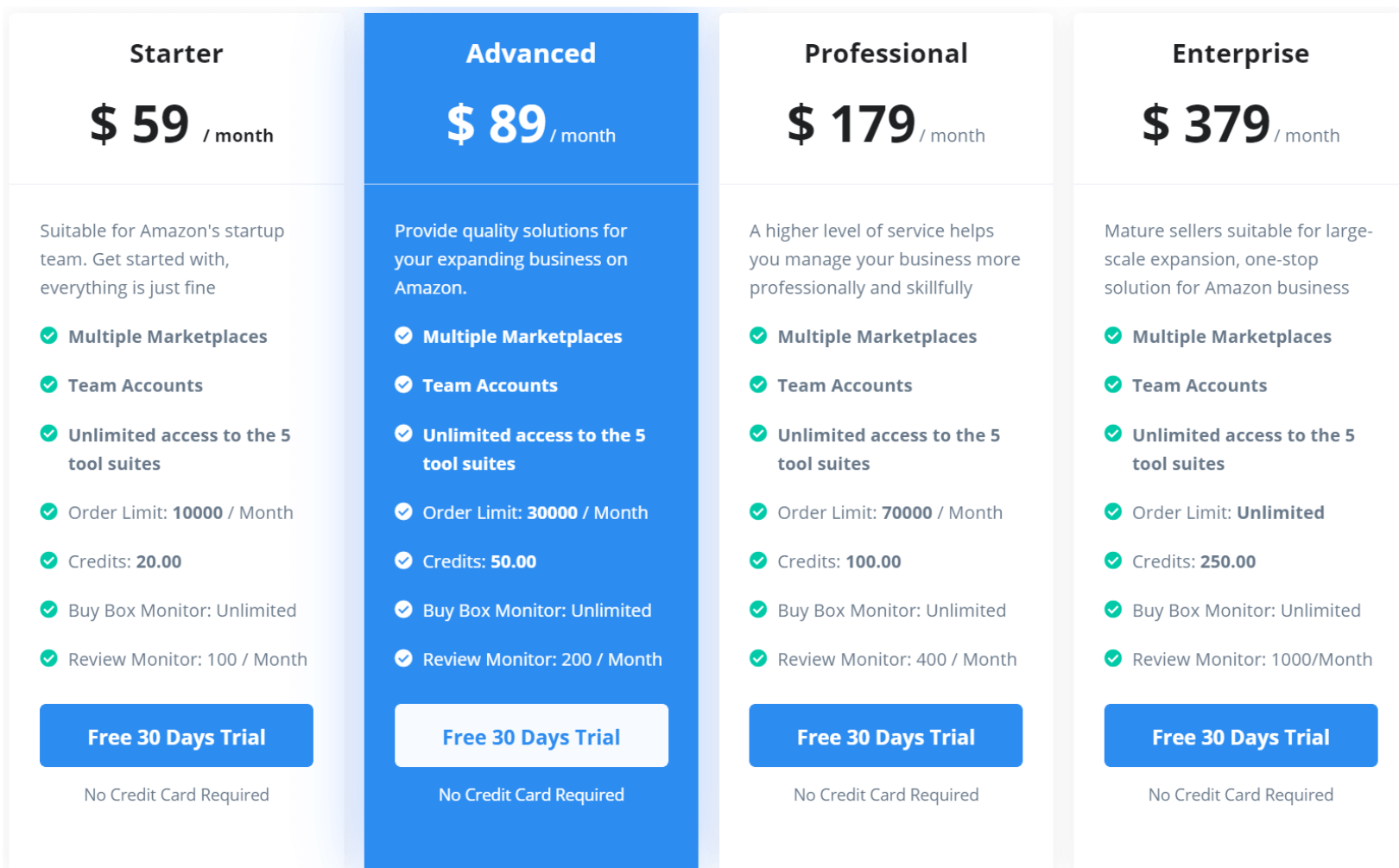 The starter plan will cost you $59/month with an order limit of 10000 per month
The advance plan costs you $89/month with an order limit of 30000 per month
If you choose the Professional plan, then it will cost you $179 with an order limit of 70000 per month
The Enterprise plan comes with an unlimited order limit and will cost you $379/month
If you pick up the Annual Plan, then you will get 2 months free.
I would smart ads and ad optimization are on the professional and enterprise plans. The auto advertising functions are so valuable to all Amazon Sellers.
Why Should You Choose Captain BI
As we know, Captain BI provides great tools and features to Amazon sellers, but there are also fundamental features which are worth considering the Captain BI
More Efficient: You will save time with their concise data designed for operational efficiency.
More Convenient: No other Software is required and can be setup within a matter of minutes.
More Accurate:The data comes directly from Amazon Officially licensed API updates in real-time. This is not 3rd party data.
More Secure: Entire system was built from the ground up with security in mind.
Conclusion
Captain BI is an excellent tool for Amazon Sellers and they support 17 marketplaces worldwide. It is more efficient, accurate, convenient, and more secure.
There are many benefits of choosing Captain BI because it enables the development of small and medium enterprises and helps the global sellers more flexible and effective decision making. It is easy to find profitable products, Sales analytics by customized metrics, Professional profit reports, Manage inventory with intelligence, Smart sponsored ads tools, All you need on Amazon with just one platform.
It is a must-have tool for Amazon Sellers. We think you should definitely try it.
Want to see if Captain BI is right for your Amazon Business? Checkout their FREE 30 Day Trial Below.

Try Captai BI Free For 30 Days, No Credit Card Required.
Original Article