At times you don't want anyone to touch your phone, so as to peep into your personal chats and other stuff you want to keep secret from others, that's why you setup a screen lock. But, now a days screen locks aren't hard to bypass, even iPhone's 3D facial scanning. So, how to know who checked your phone in your absence? I have an answer for this, and in this article I'll tell you few ways, by which you can find out who tried to unlock your phone. So let's get started.
Also, Read | Top Free Apps to hide your photos and videos on Android
3 Ways to Find Who Tried to Unlock Your Phone
1. Who Touched my Phone App
Download and open the Who Touched my phone App.
After following through the welcome interface, tap on the power toggle to activate the app (and allow the required permissions).


To set a lock on the app, head to Settings > Authentication on the app entry. Here you can input a 4 digit pin, and can also enable fingerprint lock (in case you're not using a phone without one 😅)


There are some other settings you can play with (which are self explanatory).
There's an option to track failed unlock attempts as well, incase of too many wrong attempts the app will lock the device and can even erase the data. (So proceed with precaution)
The app will keep track on the activities of the intruder (if the option is enabled).
The app click picture every time the phone screen lights up (even if the correct password is entered).
Note: The report about intruder's activity is saved only after screen goes off. [For some reason the app can't click the pic on phones with a pop-up camera properly, other things work fine]
2. Intruder Selfie App
Download and open the Intruder Selfie App.
Follow through the welcome interface and grant the necessary permissions along with the Admin permission.


By default this app too locks the device and can even erase the data (in case of too many wrong attempts).
This app doesn't have any option to set it's own lock.
There are some other tweaks like the option to choose when to click a picture (which is good).
In order to uninstall the app, you need to remove the device Admin permission first, which can be done from the uninstall menu or the phone's application management settings.
3. Lookwatch – Thief Catcher
This app super easy to use, as it doesn't come with loads of customization. The best feature of this app is, that it send the picture of the thief to the registered email address. (Pretty useful in case your device gets stolen, that's why the name is thief catcher right!).
There's also a premium subscription of the app as well which comes at a price of INR 260 ($3.5).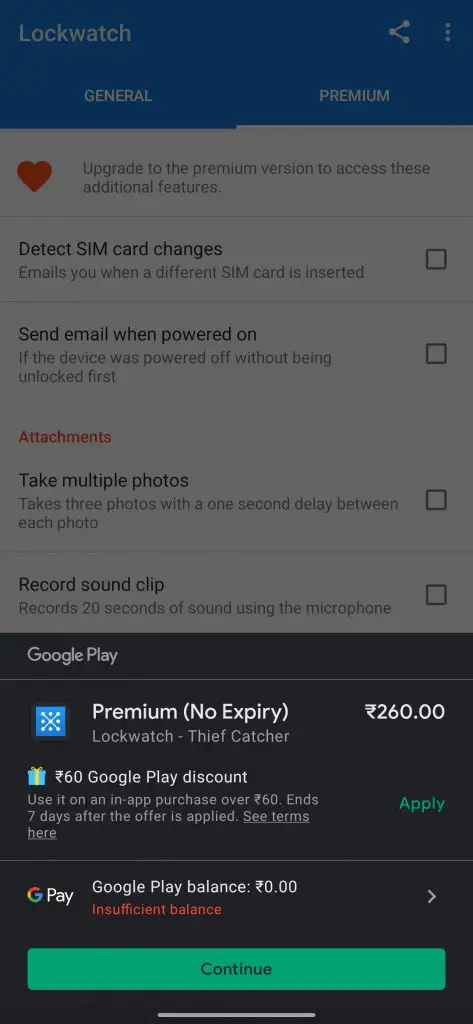 You can download the app here: Lookwatch – Thief Catcher.
4. Bonus – Check Usage without any app
If you don't want to install any app, here's a workaround to do this.
Open your phones dialer
Type *#*#4636#*#*
Tap on Usage Statistics, here you can check the app details like which apps were opened recently an at what time, etc.
There are more such apps, you can also try them as well Third Eye App, Hidden Intruder Selfie.
With all these tricks you can keep an eye on those who keeps an eye on your phone (isn't that amazing 😉) and find out who tried to unlock your phone. Do let us know which of these tricks worked for you, in the comments down below.