Microsoft is preparing to roll out the next big update for Windows 11, which is codenamed "Moment 3". The company recently rolled out this update to Windows Insiders enrolled in the Release Preview channel, and that suggests it will become available to the general public later this month as an optional update, with a full rollout for Patch Tuesday on June 13.
For those unfamiliar with the code names, Moment updates are essentially smaller feature updates that Microsoft has been rolling out this year, adding new capabilities to Windows 11 more frequently. In the past, Microsoft would release a bigger update once a year (as it did with Windows 11 version 22H2), but these new features are now split into smaller updates throughout the year. Moment 3 is, of course, the third one of these updates — here's a look at what it brings to Windows 11.
Copy 2FA codes from notifications
Source: Microsoft
This update makes it possible to copy two-factor authentication codes from notifications you receive on your computer. If you receive these codes via email using the Mail app, for example, there will now be a button in the notification to let you quickly copy the code, so you can paste it where you need it. This also works for notifications synced from your phone using the Phone Link app. However, the feature only works in English.
Source: Microsoft
Microsoft has made some significant tweaks to Widgets in this update. First off, the Widgets board itself is being redesigned with a three-column layout, with one column being used for widgets and the other two for news articles powered by Microsoft Start.
Additionally, Microsoft is also working on a new experience for pinning new widgets to the board. Now, you'll be able to preview what the widget will look like before adding it, so you don't have to add it and then delete it if you don't like it.
Seconds on the taskbar clock
Source: XDA
Microsoft is finally addressing a common piece of feedback for Windows 11 with this update, too. After removing the ability to see the time in seconds on the taskbar clock, this update now adds this ability back. It's turned off by default, but you can enable it by going into the Settings app.
Another notable change with this update isn't actually a new feature but a new default behavior. Now, when you press the Print Screen key on your keyboard, rather than copying a screenshot of your screen to the clipboard, Windows 11 will automatically launch the Snipping Tool capture UI. This allows you to select a capture area or window, and it automatically saves the capture to your Screenshots folder. If you want to turn this off, you can do so in the Accessibility> Keyboard page of the Settings app.
Settings improvements (USB4 page, presence sensing, and more)
This update also includes a few improvements to the Settings app. These include improved performance when using the search bar, but also the following new capabilities:
USB4 hubs and devices page
The Settings app has a few notable changes in this update, starting with the addition of a new page for USB4 hubs and devices. Found in the Bluetooth & devices section, this page lets you see information about connected USB4 (or Thunderbolt) hubs and see their capabilities, as well as see what devices are connected to them.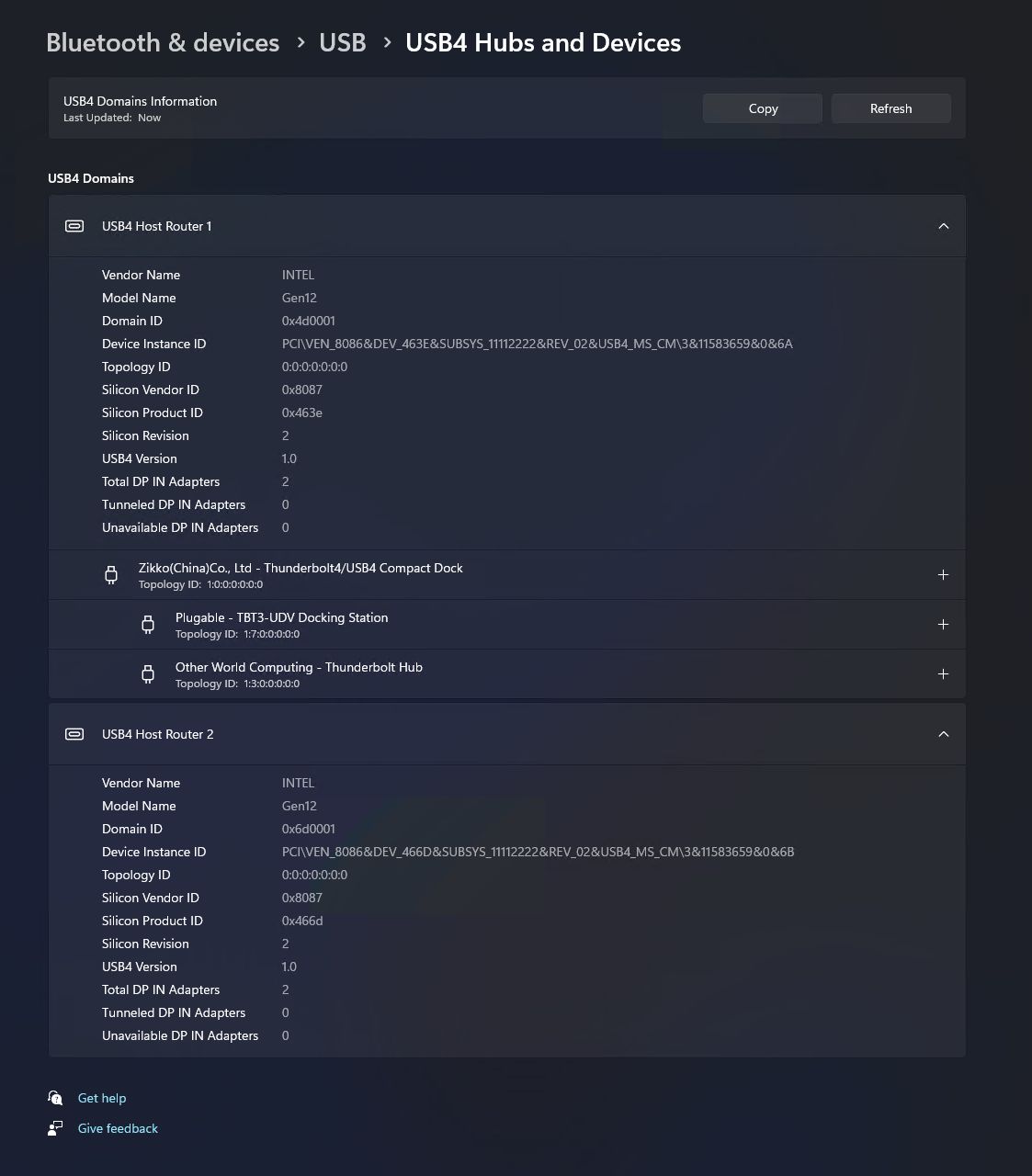 Source: Microsoft
Presence sensing privacy settings
Source: Microsoft
Another new page in the Settings app has to do with presence sensors available on some high-end laptops. Now, you can manage which apps are allowed to use the presence sensors on your laptop. This is an important privacy and security feature, as it lets you stop apps from determining when you're using the computer.
Content Adaptive Brightness Control on AC power
Source: Microsoft
Windows 11 has a feature that changes the brightness of the screen depending on the content being shown, which allows laptops to save battery. With this update, Microsoft is making it possible to enable this feature even when the laptop is plugged in, making it so that you can also save power when you're connected to a charger.
New touch keyboard setting
Starting with this update, it will be easier to have the touch keyboard show up even when a physical keyboard is attached. A new option in the Settings app lets you choose when the touch keyboard should appear automatically upon selecting a text input field, with options for Never, When no keyboard attaches, or Always. Previously, only a simple toggle was available that switched between the first two options.
The Windows 11 File Explorer came with a brand-new context menu that tried to simplify things but also removed some capabilities, one of which was access keys. These are now making a return, meaning that once you open a context menu in File Explorer, you can press a key on your keyboard associated with a specific option in that menu. Access keys are displayed next to the corresponding action when the context menu is opened using the keyboard (either with the dedicated Menu key or by pressing Ctrl + Shift + F10).
Accessibility improvements (live captions and voice access)
Live captions in more languages
Source: Microsoft
After Windows 11 version 22H2 introduced live captions as a system-wide feature in English, this update is expanding the availability of this feature to more markets. This includes various new languages, including Chinese, French, and Portuguese, as well as more English dialects. Here's the full list of supported languages:
Chinese (Simplified and Traditional)
French (France, Canada)
German
Italian
Japanese
Portuguese (Brazil, Portugal)
Spanish
Danish
English (Ireland, other English dialects)
Korean
Voice access improvements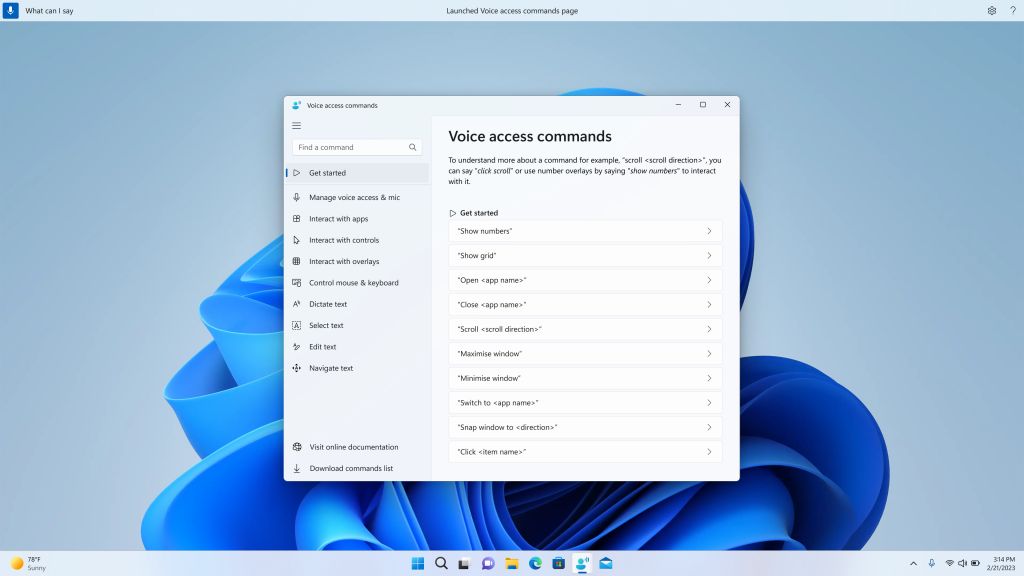 Source: Microsoft
Another big accessibility feature in Windows 11 version 22H2 is voice access, which gives users the ability to control their computer using voice commands. With this update, there are big improvements on two fronts. First, Microsoft is adding support for more English dialects, not just in the United States, so users in the United Kingdom, India, New Zealand, Canada, and Australia can also use it.
Additionally, the voice access app has a redesigned help page that should make it easier to find information about available commands, including a description and possible variations. The list is still potentially incomplete, but Microsoft is working to address this in a future update.
Live kernel memory dumps in Task Manager
Source: Microsoft
For developers, this update brings an important new feature, which is the ability to create a live kernel memory dump to help with troubleshooting or diagnosing issues with apps. You can create a live memory dump for an app by right-clicking its process in the process list and changing the settings for memory dumps in the Task Manager settings.
Other changes and improvements
Aside from these bigger changes, the Moment 3 update for Windows 11 also includes some smaller news. Here's a quick rundown of other changes:
This update adds a multi-app kiosk mode for IT managers and public devices. Kiosk mode lets organizations lock down apps and features to force users to stay in a secure, locked-down environment with only select apps allowed.
Only up to 20 Microsoft Edge tabs will be shown in Task View when the corresponding option is enabled in the Multitasking page in the Settings app.
The network icon on the taskbar will now show a shield icon when a VPN is being used
For Chinese users, Microsoft has improved the cloud suggestions and integrated search suggestions for the Chinese Input Method Editor (IME).
The taskbar search box now displays in a lighter color when using a dark system mode paired with a light app mode
The Accounts section of the Settings app now shows the total amount of cloud storage available across different OneDrive subscriptions.
Of course, aside from these changes, the update also includes a handful of security improvements and fixes, which come with every monthly update. You can read about all the fixes in the latest Release Preview update, though more changes may be added by the time the update rolls out to the general public.